IGN:Ectos are yummy
1. I own every campaign. I have played for roughly 3 years .

2. I have a sin as my main, then a necro, a dervish,and an ele. All of them are level 20, my sin has completed every campaign except proph and is expecting to get guardian titles on it soon. My ele has finished every campaign expect EOTN, my necro has completed factions and nightfall, and my dervish is partly through with nightfall.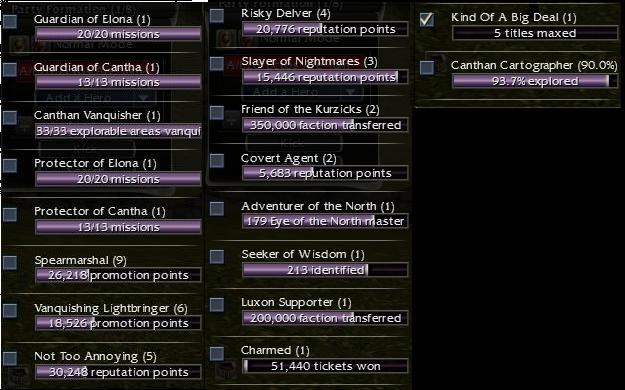 3. My sin has almost every pve skill except a few vanguard skills that i can get easily. My necro has a few basic pve skills like great drawf armor and "By urals hammer". My ele has of the pve skills except the EOTN ones that i can get.
4. i currently have 5 maxed titles. I am working on my vanquisher of elona, and then further on to get GWAMM.
5. Yes
6. Guilds Wars Guru
7. I want to gain experience with the game itself by helping others, and also being helped.
8. I do not remenber the guilds I've been in.
9. I like to play video games, sports like basketball, and hang out with my friends.
10. I normally do UWSC /FoWSC everyday. I have done a few old school UW,FoW, URgoz, DoA,and deep runs before. As for dungs, i havent much of them but im hoping to learn some runs.
11. I am 17 years old, i live in New York City, and i normally play at around 7pm-10pm on weekdays and on weekends its varies. My time zone is eastern strandard time.
12. I do not know if i deserve a team spot but im looking foward to learn a lot if i do get accepted. Im always up to try new things.