1. What is your total time played in GW. How old is your account? And which campaigns do you own?
**PROVIDE A SCREENSHOT OF YOUR /AGE**
You have played this character for 498 hours 11 mins over the past 6 months. Across all Characters you have played for 1,570 hours 31 mins over the past 32 months. You have been on this map 30 mins.
[img]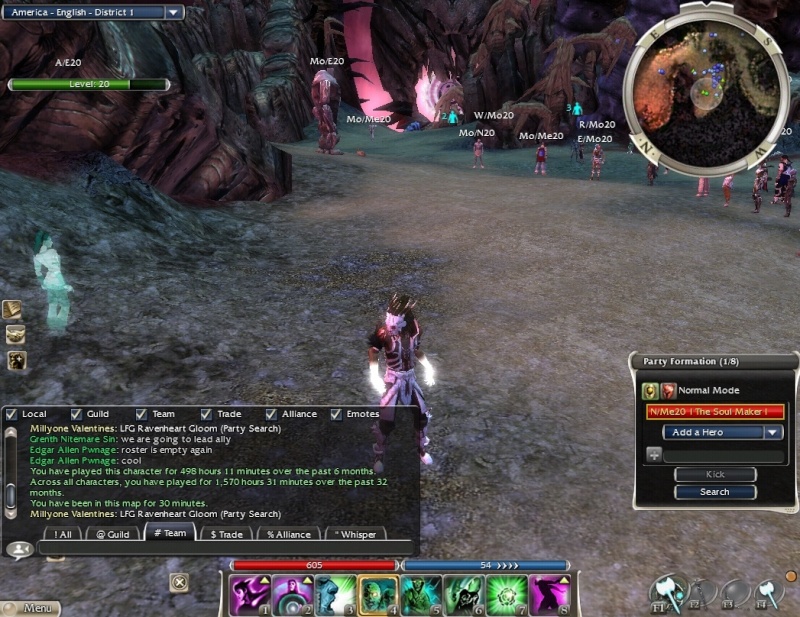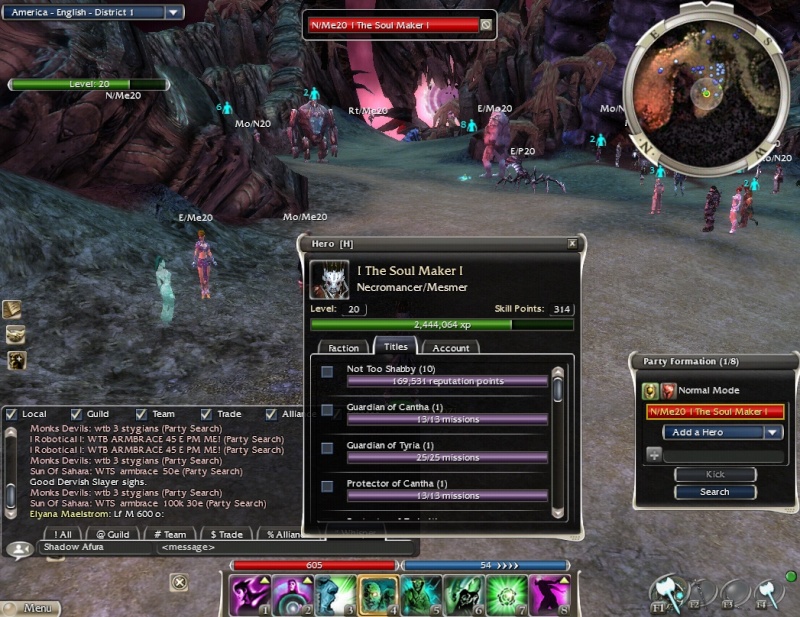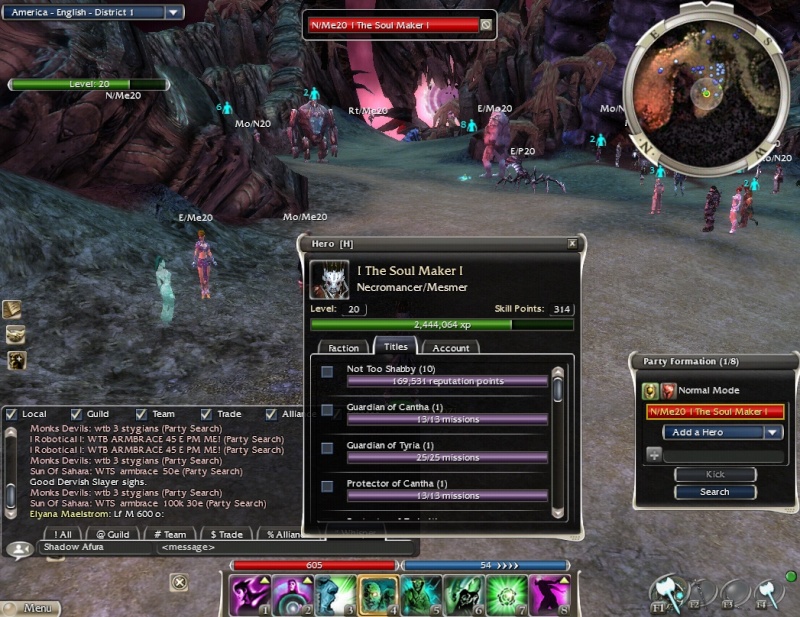 [/img]
necrosoul.jpg
2. What characters do you have and which campaigns did they complete?
1) Necromancer: Completed all Campaigns, Max title: Guardian Protector for Proph and Factions. Max Asura. Rank 5 for deldrimor,norn,vanguard,. LB 5, SS 7.
2) Mesmer: Completed NF, Almost EotN, LB 8, SS 8.
3) Monk: Completed EotN. Progress of NF.
3. What pve skills does you main toons have and what rank?
Necro: Have almost all pve skills for all ranks. LB 5, SS 7, Guardian + Protector titles. Kind of a Big Deal. Eotn ranks.
Mesmer: Few Pve skills LB 8, SS 8
Monk: Few Pve Skills.
4. How many titles do you currently have and which one makes you the most proud? Also, what titles are you working on?
**PROVIDE A SCREENSHOT OF YOUR TITLES**
I have Guardian and Protector titles. Lightbringer, Sunspear, Eotn ranks. The one that makes me most proud is Rank 8 Lightbringer, and Kind of a Big Deal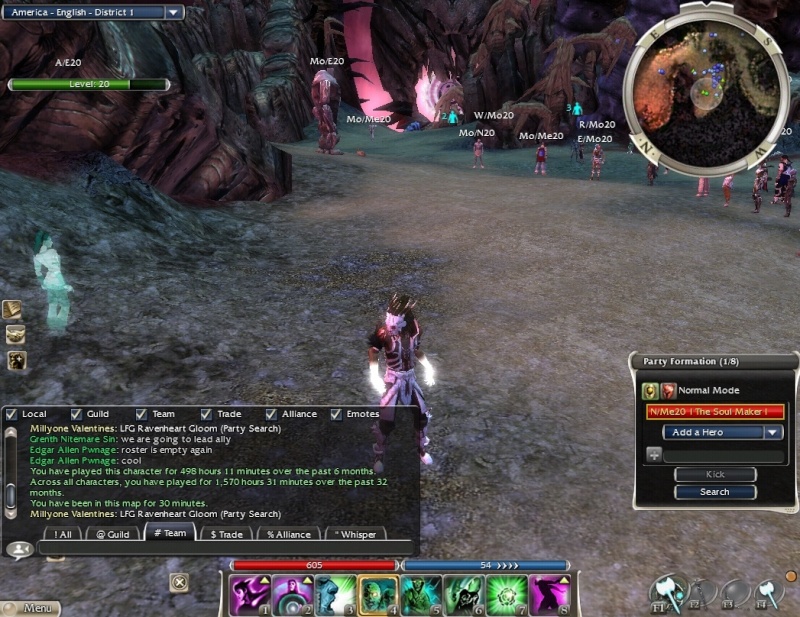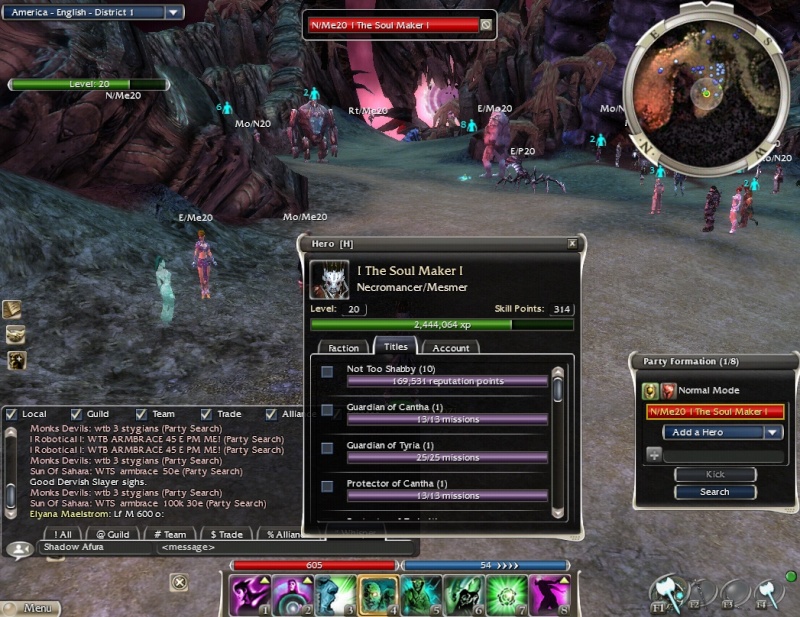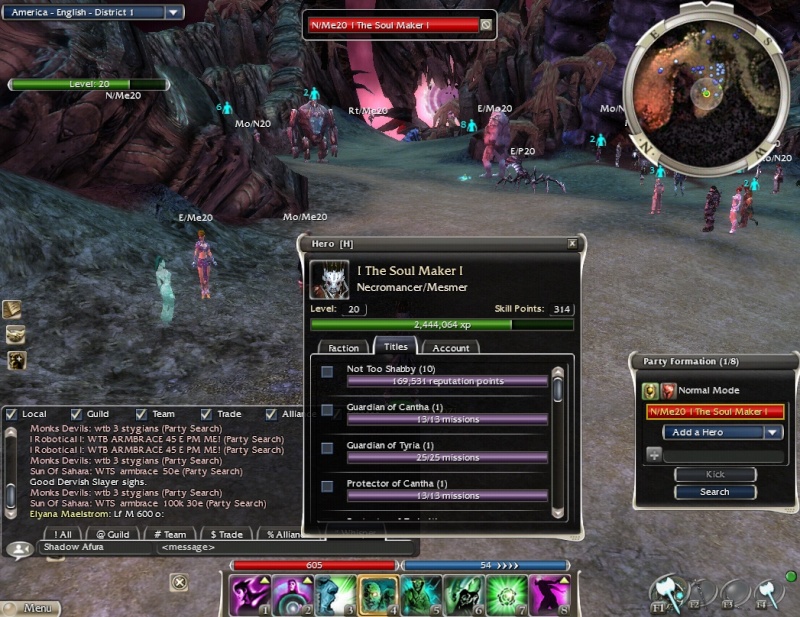 5. Do you use ventrilo and a headset/mic while playing?
I use vent and teamspeak all times. I have a Mic as well.
6. How did you hear a bout SCAR? Please include names if possible.
I was convinced by a good friend Shadow Afura.
7. What do you want to get out of SCAR? And what can you bring to SCAR? Well, I would like to experience with SCAR alot of DoA, HM Missions + Dungeons, and helping each other. I hope to bring friendship, and help to guild by helping others in Missions, and filling in for groups. I will also bring maturity to the guild.
8. What other guilds have you been with (tags please)? Please include length of time with the guild(s)s and reason(s) for leaving.
I have been in ViVa and GODZ. I left ViVa because members fell apart. The members in GODZ have stopped doing DoA and HM areas due to only UWSC Farming. I would like to join a guild that also does DOA

. And also because most members r not so active.
9. Tell me a little about yourself including other hobbies or just share a GW's story.
I play GW on computer, take PSAT classes, Run Track/ Cross country, sometimes soccer. And sometimes swim. In Guild Wars, i like to Do alot of DOA. and Eotn dungeons/ misisons.
10. What elite mission(HM dungeons,FoW/UW/URgoz/DoA) experience do you have and what roles have you played in these missions?
Ive done UWSC as a Vale necro. Done FOWSC as a RoJ. Done DOA mostly as a VoR or Esurge cry on Mez. And FoC cry / bip on Nec.
In urgoz i go with pugs/sometimes guildies as a bip. :p
11.How Old are you and where are your from and what time do you usually play? Also, please include the time zone in which you live.
I am 17. Texas, USA. I play GW mostly Morning - Night.
12. What are you going to do for SCAR and why you desrve a team spot.
Well i hope to experience alot of activity with the guild in HM misisons, challenges, and others. Well in my opinion, i think i should deserve a spot, because im a fast learner, and kind of experienced in many areas in GW.